Welcome

Audio Visual Images emphasizes value in our broad range of professional video production services. We use the latest in digital technology to produce a variety of products to satisfy your video requirements, for both personal and business purposes.
Audio Visual Images is part of a large video production network of independent videographers throughout the United States. Through our affiliation, we have a robust exchange of experiences and ideas that helps to continuously update and improve our video production techniques. We have resources that can perform almost any video related service, and we can get it done practically anywhere in North America. The future is now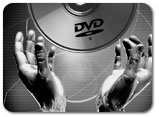 DVD, videotape, or various video files for the web… The choice is yours! DVDs are the standard final format for most of our productions. However, we can accommodate several videotape formats, e.g., VHS, S-VHS, DV, DVCAM, 8mm, Hi-8, Digital 8; and we can render short video productions to files suitable for the web and other purposes.
We take pride in our work
Click on the links in the header of this page for more information on some of our services. We offer additional services not listed, so either call or email if you don't find what you are looking for here in our website. We hope to hear from you soon.