Event Coverage

Whether your next event is in a hotel ballroom or at a football stadium, Audio Visual Images can cover it.
From business meetings and training seminars to stage productions and dance recitals… we can provide the video recording services you need: single or multiple camera coverage, on-site live mixing, pre-, super-, and post-script titling, and much more. Combine all that with our DVD recording and duplication services, and we can furnish everything you need to re-live your event, distribute it to a broader audience, or turn it into a finished sellable product.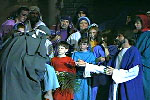 We can also provide multiple-camera Image Magnification (IMAG) coverage that makes every member of the audience feel like they are onstage with the performers.
Contact us for available options and free estimates.