Video for the Legal Profession

Over the years, technological advances in video equipment have had a dramatic effect on the legal profession. Video has proven to be an effective legal tool, both in and out of the courtroom. Whether it's a video deposition, day in the life video, accident re-creation, or duplicating confidential video evidence, we can provide the legal video services you need.
Depositions
Editing Services
Documentations
Day in the Life Videos
Mock Trials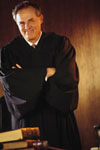 Our videographers are professionally trained and certified in forensic video, and have many years of experience and knowledge regarding procedural guidelines. As a part of a national network of Professional Legal Videographers, we can arrange legal video services just about anywhere. We are committed to staying informed about the latest innovations that will benefit our legal clients.
National referral network
State-of-the-art digital audio and video
Professional appearance and performance