Duplication & Transfer Services
Film Transfer

Remember the fun of watching the old home movies? You can do it again, you know. Your 8mm, Super 8mm, and Super 8 Sound can be converted to videotape. No more hassle with projectors, screens, reels, and bad bulbs. Just insert the DVD, push play, and enjoy.
Audio Visual Images provides home movie transfer at very reasonable rates. We treat each order as if it were our very own home movies, and add an opening title and light background music to make the final video that much more entertaining. You receive your original movies back with your finished order.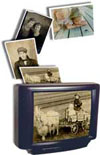 Photo Transfer/Tributes
We offer different levels of this service. If you're willing to have a few tears jerked for the sake of having your heart warmed, we can produce a full-blown tribute video that choreographs your photographs, slides, and videos with music and titles blended into a memorable keepsake that you will cherish for a lifetime. 
Duplication

We can make multiple DVD duplications with very fast turnaround. We also can still duplicate your VHS tapes.
Tape to DVD
If you want to bring your home movie library up to date and preserve it for the future, we can take just about any videotape format and transfer it to DVD for you – including VHS, 8mm, Hi8, Digital8, and DV .